1 Answers
Unruly pedestrians, shrinking road space behind Kolkata centre accidents
Dwaipayan Ghosh | TNN | Updated: Dec 7, 2019, 12:51 IST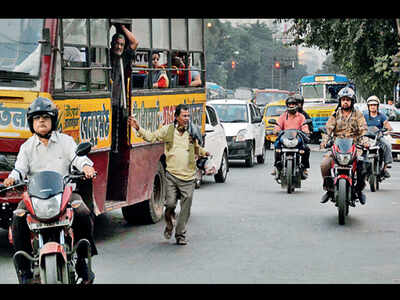 A passenger gets off a moving bus in Esplanade.Retired Justice Gitanath Ganguly (83), now the president of Mohun Bagan club, was at the Strand Road-Kiran Shankar Roy Road crossing near the New Secretariat when a car hit him and injured his left leg. The incident took place around 4.50pm on Wednesday. He was taken to the Joint and Bone Clinic at Salt Lake where he is recuperating.
A 50-year-old Tangra resident, Tamal Das, lost his life after being crushed by a private bus at RR Avenue close to Curzon Park. The bus — plying on route 40B — hit Das around 1.25pm from behind while he was trying to cross the road at the heart of the city. Das was rushed to SSKM Hospital where he was declared brought dead. The cops said that the bus that terminates at Babughat was probably racing during the last stretch of its journey from Thakurpukur.
Four Rabindra Bharati University post graduate students, who were returning home after appearing in their semester exams in a city college, were injured and a car driver was killed after a Maruti Omni van that the students were in collided with a private bus near Dufferin Road and Mayo Road crossing on Sunday afternoon.
Two accidents this week in the Esplanade-BBD Bag region have forced police to pull up their socks.
Cops said they managed to identify multiple factors behind the accidents. The first is the shrinking of road space. "Protests and constructions force bus drivers to take detours. It leads to buses on same routes to rush towards the end of their journey (Esplanade-Babughat). As a result, the drivers often ask passengers to get off while the vehicles are on the move," said a sergeant.
The erratic pedestrian movement — right from getting off a moving bus and trying to cross over immediately without caring for the traffic rules — is a major trigger. Add to it the apathy of bus drivers to stop at designated bus stops (especially at the fag end of their trips). "The failures to get tram tracks de-reserved on Dufferin Road to facilitate bus movement and channelize buses and private vehicles to dedicated lanes have also led to the rising number of accidents," said an officer from headquarters traffic guard.
"Both the RR Avenue and Dufferin Road are death traps. Several accidents had been reported earlier — a couple losing their arms and a police sergeant losing his leg. For the time being, we want the buses to stop exactly at the designated stop on RR Avenue. The usual practice is to leave SN Banerjee Road, use the middle flank and cross the Curzon Park signal in a jiffy. With the road now further constricted due to Metro construction, monitoring the zone is a challenge. We will also try to restrict pedestrian movement.
The pedestrians do not realize that it is not always possible for a bus driver to spot sudden movement right ahead of his vehicle," said an officer.
Earlier, a study was undertaken by the research team of civil engineering department of IIT-Kharagpur to evaluate the safety measures of bus stops in the Central Business District (CBD). "If there is no crossing facility or proper bus stops, it's a design-related deficiency. But, if a bus stop has adequate space and yet commuters choose to stand on road, it's a management-related issue," Bhargav Maitra, who headed the research, had said last year.
https://timesofindia.indiatimes.com/city/kolkata/unruly-pedestrians-shrinking-road-space-behind-city-centre-accidents/articleshow/72407864.cms
Please login or Register to submit your answer